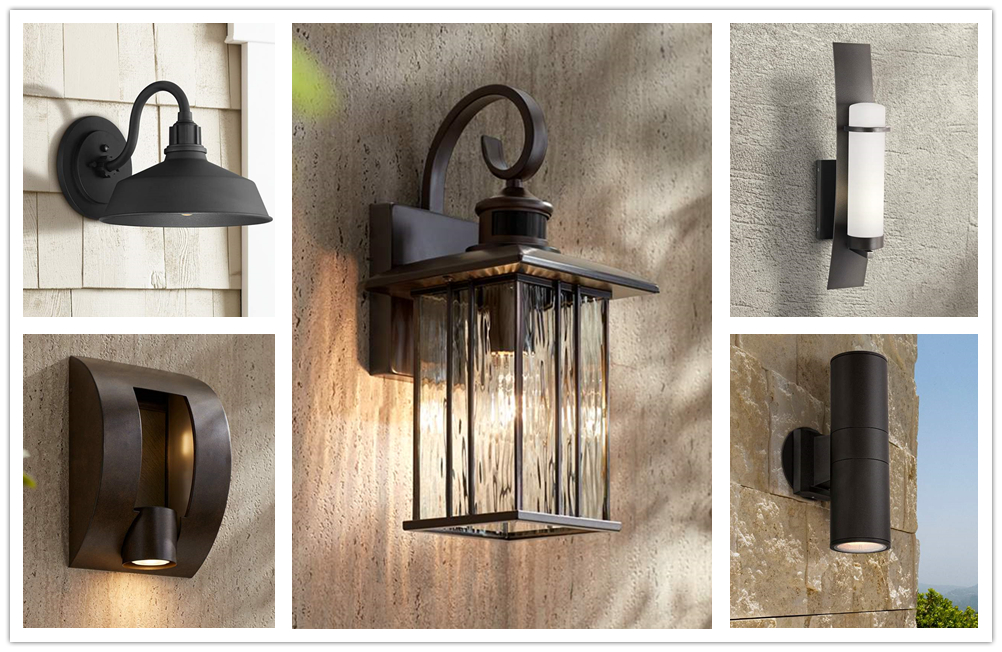 House Decor
The Top 10 Outdoor Lighting Options These Work For All Homes!
The right outdoor lighting contributes immensely to the overall look of your home. Moreover, a well-illuminated outdoor space helps to keep miscreants at bay while enhancing the curb appeal of the property.
The best part is that you don't have to spend a fortune to light up your garden, deck, porch or patio. But, since there are so many stunning options available you are bound to be confused. So, here are the top 10 outdoor lighting options that will work wonders for any house.
This minimalistic swan neck is subtle yet chic and offers just the right amount of downward illumination to cast a warm glow at the entry point of your home. The rustic barn style light with its smooth black finish is all about a clean and contemporary charm that will contrast perfectly against a lighter façade.
Its aluminum construction and the built-in dusk-to-dawn photocell also make this a sturdy and highly functional piece of outdoor lighting.
Think of this bronze beauty as the coming together of classic looks and modern-day practicality. The all-bronze design brings exceptional resilience while the four-sided glass casing means that instead of a unidirectional light beam, you get all-around brightness.
The best part is that the charming outdoor lamp design comes with a built-in motion sensor. This helps to save power as the light comes on at 25% power and stays on at this level till motion is detected at which point, it goes to 100% power and brightness. That's what's called getting the best of both worlds!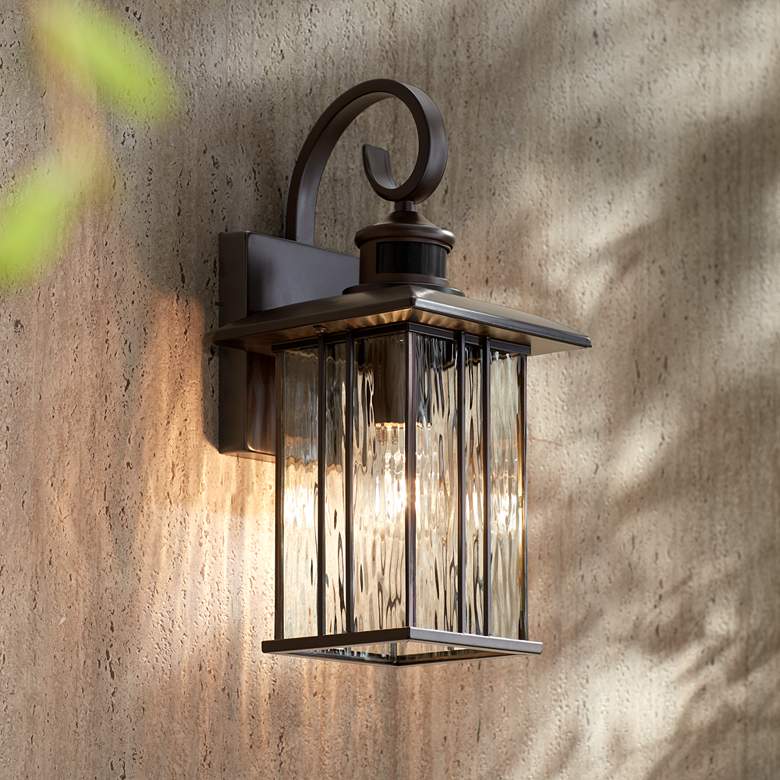 If you are looking for outdoor lighting that perfectly complements the contemporary design of your home, you simply can't go wrong with piece. The combination of geometric design and striking color contrast make this a stunning fixture that looks just as gorgeous in daylight as it does at night.
When switched on, the white, etched glass cylinder that holds the lighting element casts a beautiful warm glow all around without being too bright. Talk about just the right kind of welcoming!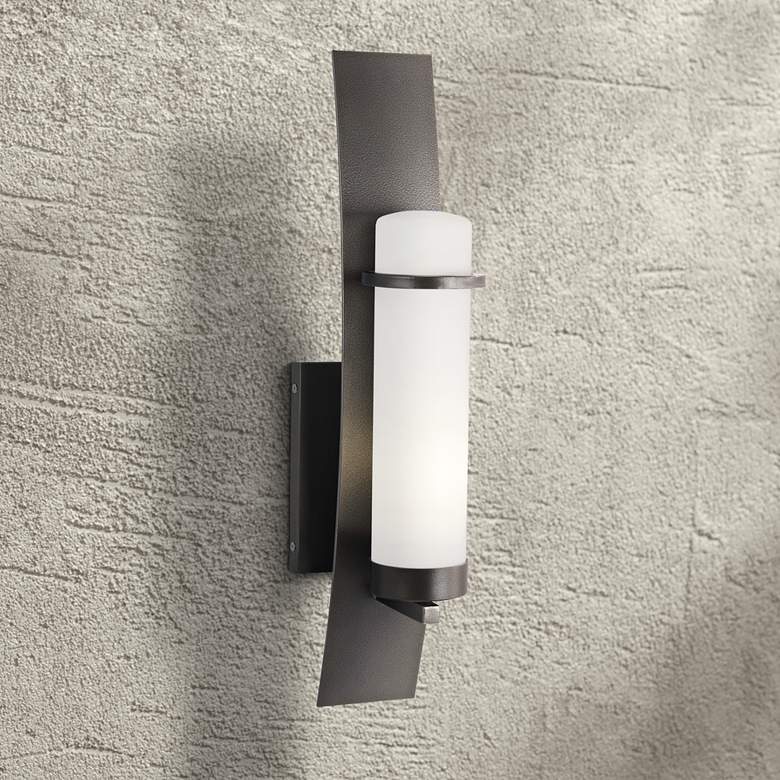 This outdoor lighting option is at once the focal point and the path creator. The two lights that shine on the unique framework give this piece a sculpture-like look while the single downward light casts a beautiful cone of brightness on the ground and on the vertical surface, which is just enough to guide your guests along a path.
The three-light assembly is also perfect for a sitting area in the back or front yard as it provides just enough illumination to create a warm and cozy environment.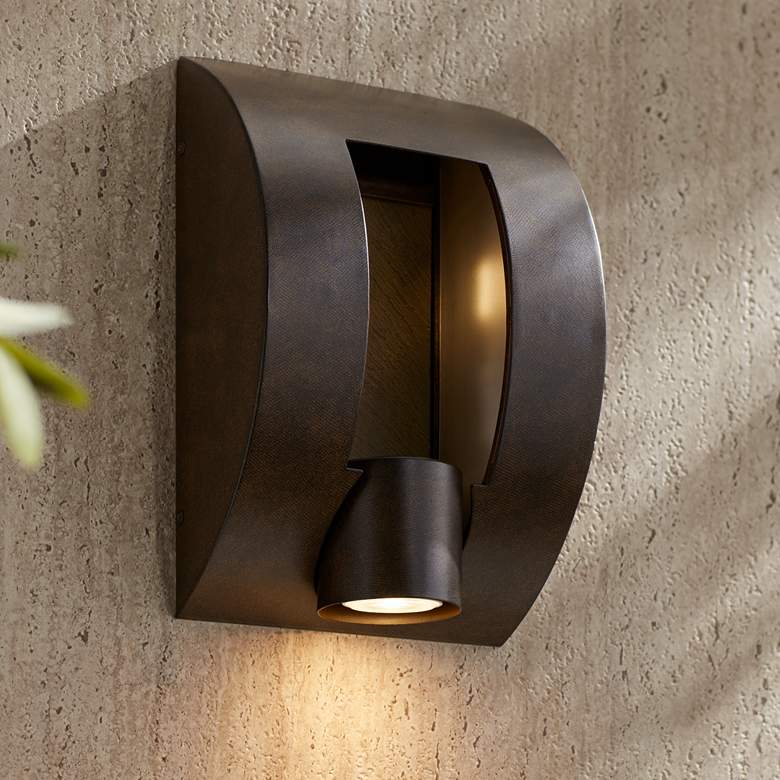 Want to highlight an outdoor architectural feature or perhaps the texture of a vertical surface or even a shrub with a unique growth pattern? Then this high up-down light will get the job done to perfection.
With an all-black body that emanates an intense beam of light, this fixture is an ideal match when you want the focus to be on the subject and not on the light. So, whether you want to use it for up lighting or down lighting, this piece will work beautifully.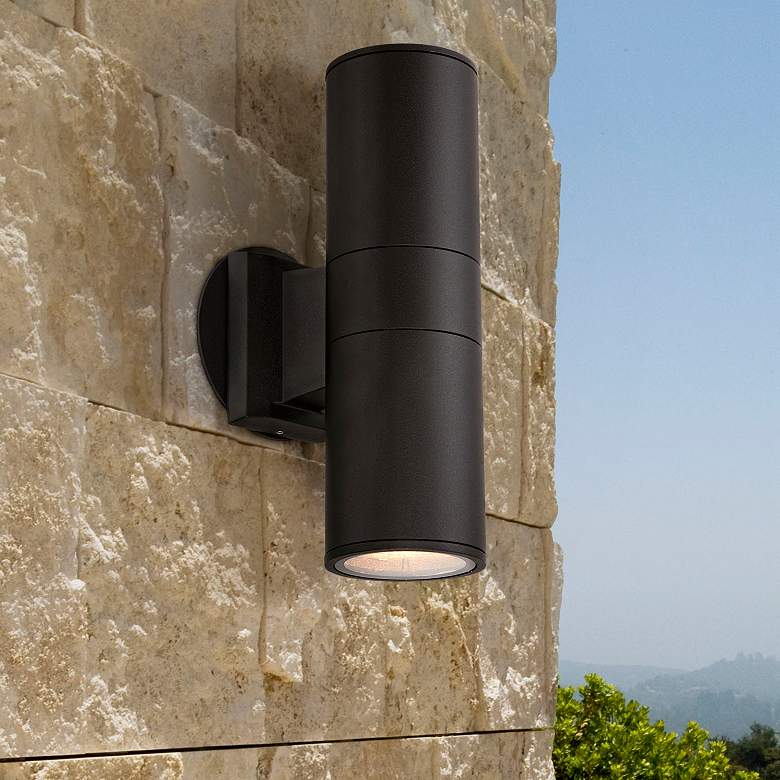 With an all brass-bronze body, this outdoor lighting has an undeniable classical appeal. Yet, the half capsule-all glass design also gives it a futuristic look. To add to the unique combination of the metal and the pattern are the two bulbs that cast both upward and downward beams.
So, the piece works well on its own and it's the perfect highlighter for unique textures or even shrubbery placed in a line. It's also just as effective when you need to create a lighted pathway along a vertical structure.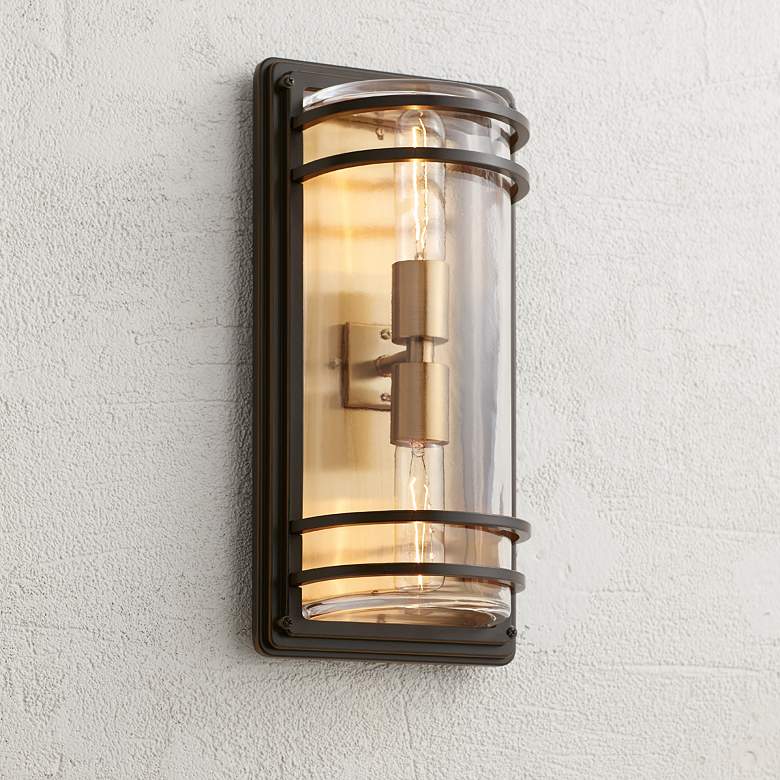 If you need a fixture that gets the job done while offering a clean and neat look, this composite-body industrial-look beauty will be just right for you. The use of the non–corrosive material means that it will withstand just about anything that nature throws at it. So, it is particularly well suited for outdoor use in coastal areas.
Plus, the minimalistic design means that it won't clash with any eye-catching textures or landscape features. And when it comes to brightness, you will get all that you want from the clear-seeded glass.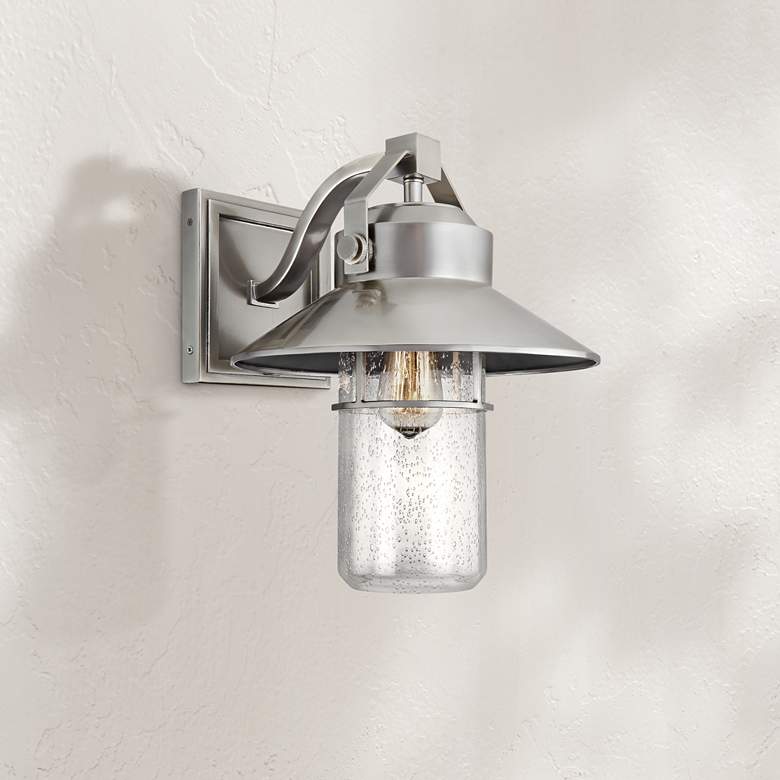 Want to deck up the deck or even the patio in classic American-style outdoor lighting? Then, this fixture, with its casual yet bold look, will do just that. The die-cast metal body with a bronze finish gives this piece a timeless appeal.
Plus the metallic finish makes it a perfect match for nearly all textures and colors used on exterior surfaces. Moreover, the seedy glass panels offer optimal light diffusion so the final effect is that of just the right kind of glowing brightness. And to top it all, the piece comes with a convenient pier mount adapter and is rated for outdoor use.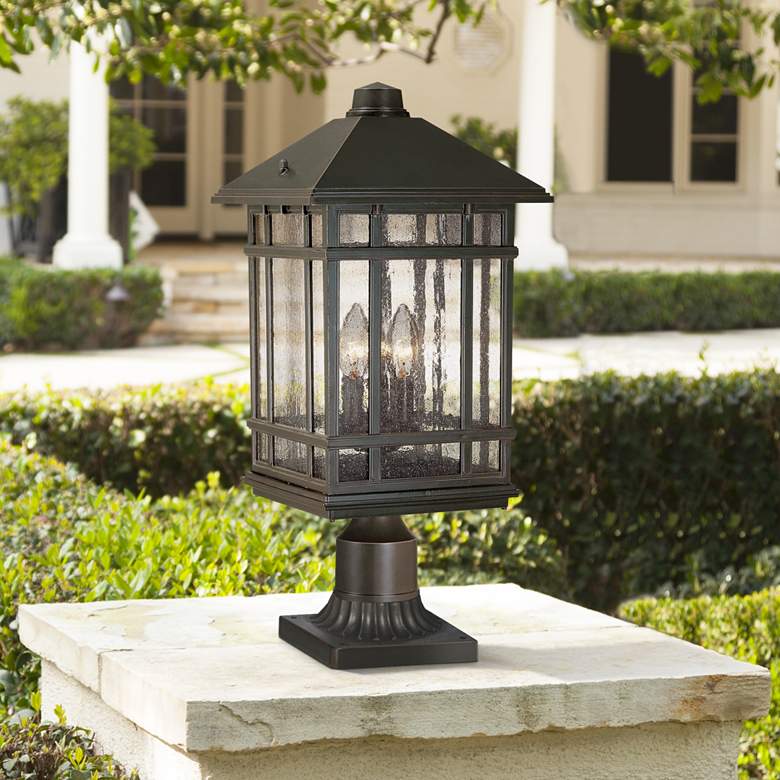 This double-headed LED light is all about pure functionality. It's bright enough to ward off trouble, is built to last, and saves energy. What more could you possibly ask for?
The aluminum construction includes pivoting arms that allow you to focus the light beam in a way that will illuminate even those hard-to-reach dark pockets of the yard. So, it's an ideal match for walkways across the property and garage areas.
The best part is that the 10-watt LED arrays offer the same brightness that you would get from a 120-watt halogen light but at 1/10th the energy expense. Now, that's safety combined with affordability!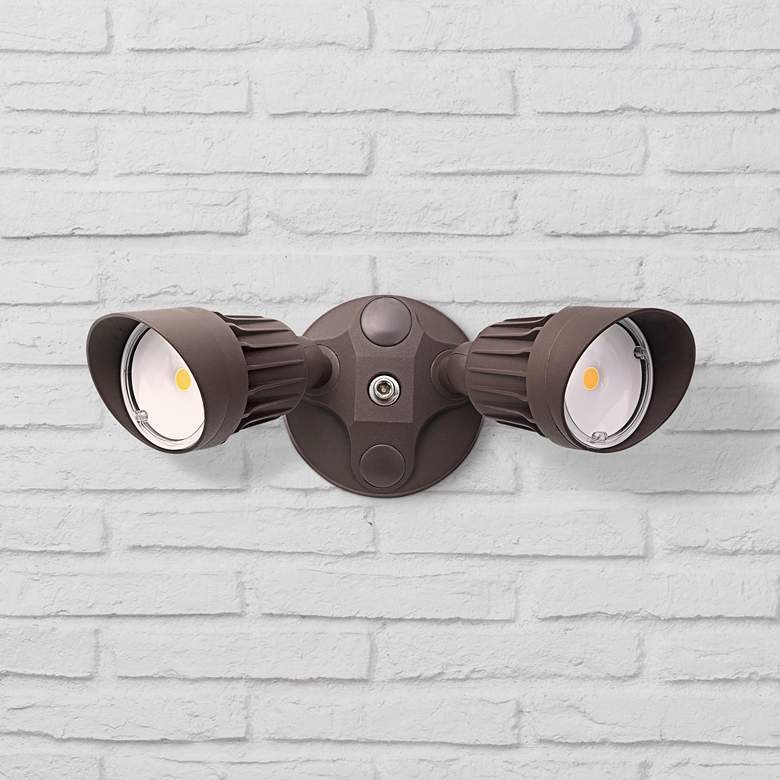 No list of outdoor lighting fixtures would be complete without the one classic piece that grabs attention no matter where you place it. If that is the kind of fixture you are looking for, this bronze stunner will not disappoint.
Actually, if you are looking for a matching pair to go under the portico and on both sides of the main door/entrance of your home, this is the design to choose.
The fact, that it is also available in a pendant version means that you could just as well turn it into a three-piece assembly with two lights on the side and one that hangs from the center of the portico. The design is opulent and unmistakably French. Couple that with hammered glass and extraordinary detailing and you get a piece that is right out of home decor magazines. Yes, that's the one you could not stop admiring!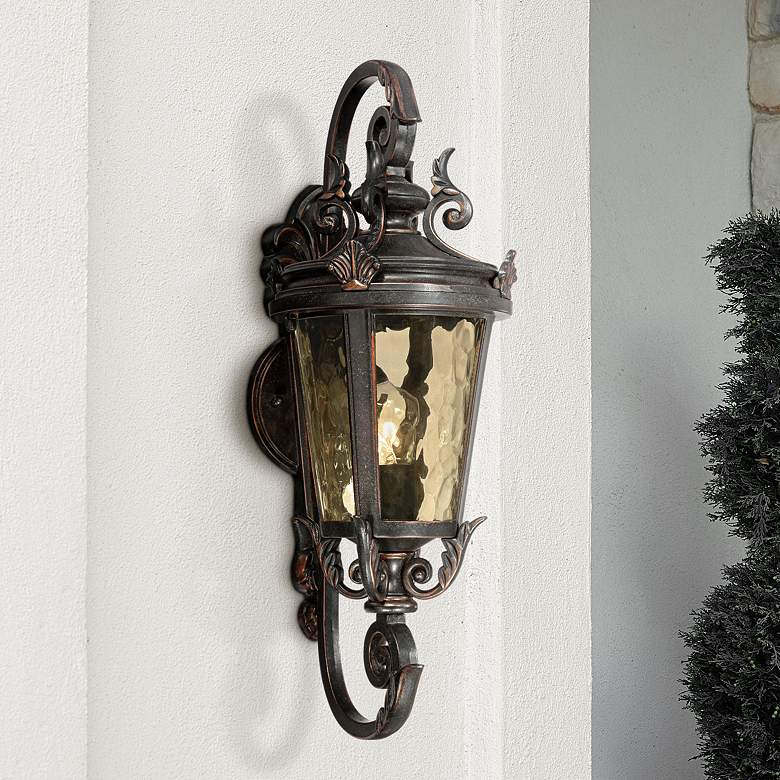 So, There You Have It Folks!
With the right outdoor lighting, you can actually merge the outdoor space with the area indoors, creating the perfect ambiance for entertaining guests or for some me-time. Plus, top-notch outdoor lighting fixtures can last for quite a while. So, this is one home décor addition that will reap rich dividends for years to.